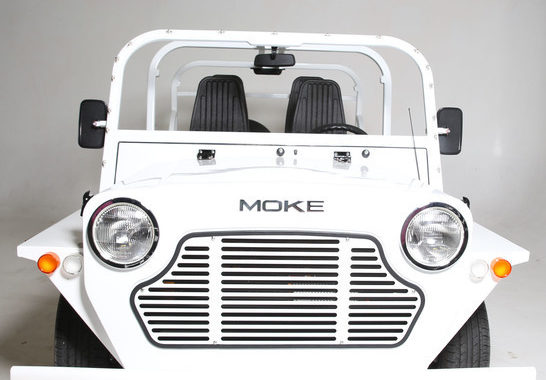 BUILT IN AMERICA WITH AMERICAN PARTS
The biggest components of the Moke are made in America, including the glass, seat belts, tires and batteries. All ten batteries are made in America. The product is assembled here on American soil. If you have a problem with the batteries, we have them right here on the shelf.
It's easy to use, easy to wash. The whole car can be hosed down, inside and out. We offer a Bimini top so you're half outdoors, half indoors. The look and design is better than the original because it is longer, wider and closer to an American car.
IT'S ELECTRIC
Most importantly, we wanted the Moke to be green. There's an electric revolution in Europe, and countries like the Netherlands are going to have entirely electric cars by 2024. It was obvious that this endeavor had to be electric.
The old Mokes had engines that were very noisy. With ours, it's silent when you drive. You can charge it with a 110-outlet. It plugs into any household outlet. Eight hours gets a full charge, and a full charge can get you almost forty miles of drive time.
Moke America is a Low Speed Vehicle (LSV) with a maximum speed of 25 MPH. Moke America vehicles are street legal.
It's better for the environment. The price point is reasonable. Moke America is a neighborhood electric vehicle. It's a car that's driven around town to visit friends, the beach, the supermarket. If you're going to take a six-hour journey, you're not in the right car.